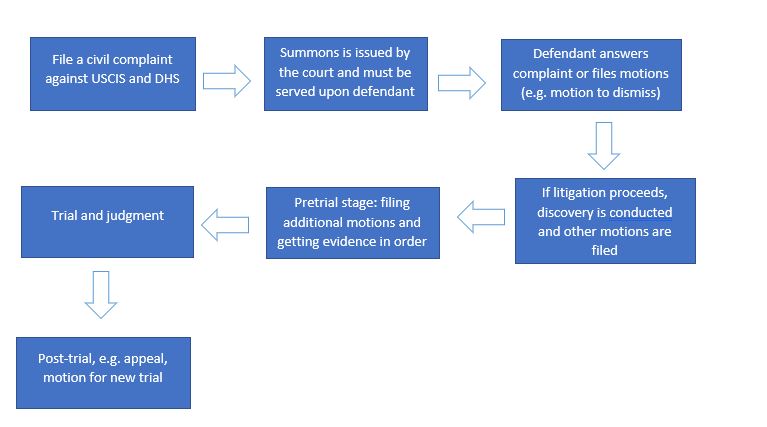 Please note: At any point after the complaint has been filed, USCIS may reopen and approve your case out of their own accord, at which point, the suit will be dismissed. If your case has been denied for any of the reasons listed below, please do not hesitate to contact us at info@visatopia.com.
H1B extension denial (same employer, same job title, same employee);

H1B transfer denial;

Initial H1B denial due to level one wage issue or specialty occupation issue;

L1 extension denial (due to insufficient employees or inadequate managerial duties);

EB1C denial (due to organization structure and position duties);

EB1A denial due to wrongful application of law (e.g. incorrect determination of validity of categories claimed and/or final merits determination);

NIW denial due to wrongful application of law (e.g. wrongful determination on issues of substantial merit, national importance, and well positions to advance proposed endeavor);

I-485 denial or N-400 denial due to communist party membership issue;

Change of status denial due to erroneous findings of facts or wrongful application of law;

EB5 denial due to job creation or source of fund issues;

I-485 adjustment of status or green card application exceeding delay (more than 2 years) due to security check or unknown reason.